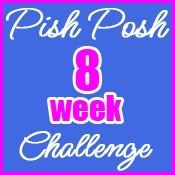 Still holding to this challenge, managing my weight, with another pound lost, and a confession.
I have a secret:
I can drop all that food without feeling too bad about it.
I did for a year once before. I'm good at giving up things. Costs me nothing, and it's only food.
So much easier than
doing
extra things.
But I'm finding the time to run for the moment, as well. And I mean to continue that.
And I just learned something very important to all this:
Yesterday my new doctor revealed a another secret to me:
High blood pressure and cholesterol. BAM!
Oh YEAH, Baby!
I now have all the motivation I ever needed. I feel like a cheater, actually. You guys are working to improve your lives, and if you fail, you can try again next time. No big, no shame. A good try is an accomplishment.
But I'm working to prevent organ damage and heart disease now. Failure is not an option. Giving up wine, cheese, chocolate*, and large portions is suddenly very, very easy, even if it is for good. Particularly if it means no meds. I'm good with that trade-off, especially if they leave my salt alone.
I don't abuse it.
I'm 20lbs over my absolutely ideal weight, and I get more fibre in my day than most people get in a week, I guarantee it. I almost never eat white flour, or white rice, and barely ever encounter sugar. I drink about four drinks a week, excepting the odd weekend where I might share a bottle of wine over an evening. But I'm more into carbs than I should be, and need more veg. I get extra vitamins from pills every day.
I have been doing all right, although there's just been some weight creep. Except, it seems I
haven't
been. This is simply age. That's the worst part. It's nothing I screwed up, it's normal. For a fucking senior, I guess. I'm 46.
So here comes our Thanksgiving, and later Halloween and then Xmas. Same time I started dieting in 2006. Bad timing. Vegetarian, tea-totalling, fat-free, sugarless, holidays. Try it, and then try it without judging everyone for diving at the buffet. Good times.
Still, the best part is that
I'm
not being a party-pooping
dick
through the holidays--my
DOCTOR
is.
Ha! Don't argue with him, Mom/in-law what are you, crazy?
Sure, I had enough to eat. Enough said.
I just barely remember my grandfather suffering without salt, and being forced to eat deadly margarine. He took it personally and hated all of it. The man was a 74yr-old overweight, sedentary smoker when he died of his fourth heart-attack, which was at a pretty good age for the time. Nevertheless, my family has been spooked by the idea of heart disease ever since, and it's hard to shake it when the finger finally points at you.
There have been no premature heart attacks on either my father's or mother's side; it's ridiculous. My father weighed 350lbs for as long as I knew him, and ate and drank without looking back. He took 700 blood-pressure pills a day and died of cancer at 73 without a single heart attack. If he were a car, he would have been the pope-mobile, driving through Afghanistan, and towing a yacht without a care. Cholesterol couldn't touch him, it was just planned obsolescence that took him down.
And truly, my figures are not
that
bad. My triglycerides are great, and my HDL is great, and my LDL is only a bit over what it should be. The ratio is excellent. This is preventative.
Yet here I am, with high blood pressure, too. Bad figures there. Probably partly because of long-term Ibuprofen abuse. Dropping it may correct the high pressure, but I'm battening down ALL the hatches at once. That's how I roll, and it's risky. But it's the quick solution. As long as I don't have to go with fake salt or tasteless food. I am counting everything else already. I am confident that that should be enough.
* * *
EPILOGUE
OH MY FUCKINGFUCKINGFUCK!
Just got a lovely weekend email from my doctor. Thanks for your dedication, I am truly impressed. He says I'm restricted to a quarter-teaspoon of salt a day. That's 2,000mg, or one salted peanut.
It's the same intake as just being present while bacon is cooking, or describing what jerky tastes like. I go over that just imagining a garlic dill pickle.
Thanksgiving tomorrow night at my MIL's will be like drowning in Satan's toilet. I don't know how I am supposed to relax when I can't eat
ANYTHING!
If my son picks his nose and eats it he'll be having a better time than me.
OH. MY. GAAAAAAAHD!!!
OK,
time for a nice walk out in the cool sunshine and to stock up on the denial.
I can do this, as long as I don't think about it.
One stinking day at a time.
---
*Yes, I didn't single-out chocolate on that last list, but you had to know it was in there. I know how people feel about it, but there are decent alternatives to the full-sugar stuff now.