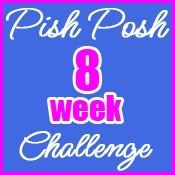 The Pish-Posh Challenge Week Three:
Music to Run From
I am terrible at following directions, and pretty bad at keeping to my own plans unless they are really simple, preferably involving
not
doing things. I do not know why I ever thought I was bright, since that shit is
important
to getting by. It's a wondrous miracle that you can be a writer without most of that part of your brain.
Just not a really prolific, successful one, like Asimov in his time, or even Stephen King, who apparently generated more text every waking minute of his heyday than a possessed coke addict.
Just kidding.
He worked hard and dared to dream about haunted cars and rabid dogs and clowns in the sewers. Good for him. He'll probably do an alien toaster or something worse next.
Look away!
Never mind. But I am gradually letting go of the brakes on these posts since I am writing them too late to do otherwise. This is why deadlines help the process so much. I still have not increased my posts outside of these challenge updates, but that's next. Also preparing for November, when if all goes to plan, I will write yet another terrible 50,000 word novel in 30 days.
Take that, Mr. King.
* * *
I seem to recall playlists being requested, and I strongly support the idea. Music gets me going and keeps me there. Thursday was a great day for a run, I can call it that now, since half of the 5 miles was running, most of the rest was walking, and some, just some, was
sprinting.
I KNOW, right?
So far that hasn't killed me yet. If I wake up with a paralytic arm tomorrow then these few days of hope were worth it. But I think I'm OK, at the risk of asking for sudden trouble.
And I'm just over two pounds lighter than last week. So that's rather nice.
Yes, it's true! Why are we whispering?
I have a current playlist that is a bit stale, like me. It includes selections from the last two decades and a bit beyond. I have picked out only the really up-tempo ones for running to. There are many more slower songs I love just as well in their repertoires.
Storm Large - She Wants You to Die Because You're All Right.
This woman rocks, and is so hot I am afraid of her. She is a big woman, with a big voice and no limits. Any musical style just concedes to her. There is no one else like her. I recommend EVERYTHING she writes and ALL her covers. In particular for exercising:
My Brilliant Blonde
Girls
Not Alright
Anarchy en Espanol
Dying Town
Star Strangled Pushernoia
Thank God
Deathrock Stomp
Ima Yora
Arctic Monkeys - They luv a bit o' trouble.
These guys write songs about fleeing the cops, bad bouncers, club girls, and fatuous conversation. Don't they look like young assholes? They probably are. They are also accomplished musicians, and dispassionate young nihilists. Their music makes me want to have ever been a bit like that. I would run through anything short of a forest fire while listening; I can't stop.
When The Sun Goes Down
Brianstorm
Teddy Pickers
D Is For Dangerous
Balaclava
Do Me A Favour
This House Is A Circus
The Bad Thing
Old Yellow Bricks
The View From The Afternoon
I Bet You Look Good On The Dancefloor
Dancing Shoes
You Probably Couldn't See For The Lights
Still Take You Home
Red Light Indicates Doors Are Secured
From The Ritz To The Rubble
Cigarette Smoker Fiona



Metric - She Heard You Fuck Through The Wall.
The absolute coolest group ever, and not just because they're Canadian. Base lines and ringing guitars and driving beats and a young-voiced Emily Haines who is the very other end of the spectrum of sexy from Storm. Also dispassionate, but poetic. Very eclectic.
Gold, Guns, Girls*
Satellite Mind
Sick Muse
Front Row
On The Sly
Handshakes
Monster Hospital
Patriarch On A Vespa
Live It Out
IOU
Hustle Rose
Succexy
Combat Baby
Wet Blanket
The List
Dead Disco

*I have to keep my priorities close.
These people take my head out of my butt and move me thoughtlessly through the world at speed.
I wish I could take them to work.